We often emphasize styling the interior of your new home, conveniently overlooking the exteriors. However, the exterior of your home is equally important as it is the first thing that catches the eye and so it's ideal when it makes for a pleasing sight.
An extension of your home, the exterior needs to be in line with the interior décor scheme you opt for to maintain consistency. After all, a good-looking home exterior is one that beautifully blends in with the surroundings and has a welcoming appearance while reflecting your personal style.
Here are 6 factors you should consider when planning the exterior of your new home:
Choose the right color scheme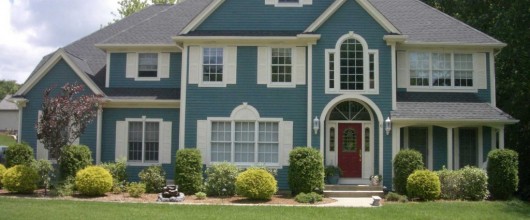 Investing in a color scheme for the exteriors of your new home is a long-term commitment and we don't blame you for feeling a little lost here. Unlike painting the interior of your home, choosing the perfect color for the exterior house painting is largely dependent on the surroundings and neighborhood.
It is a good idea to pick one color and stick to the same color family by using lighter and darker shades to create contrast. You will typically need three shades to play around with—one for the main walls, a contrasting color for shutters and doors and a third for areas like the roof edging and railings.
While neutral colors are always a safe choice, if you are feeling experimental, you can opt for a more dramatic look with bold, darker colors. However, check in with your HOA—when applicable—to ensure your color scheme is within the approved mix.
Make way for the walkway
If your home has a large enough front yard, why not make best use of it by creating an enticing walkway? Create the perfect entrance to your home with gravel, bricks, concrete, or a complementary amalgamation. A well-designed walkway is sure to add charm and accentuate the exteriors of your home!
You can also install curved paths on your yard as they add design interest, giving a more natural look. Just make sure the material you use for the walkway coincides with the material used for your home and you're sorted.
Make a statement with your front door
Give your guests a warm welcome with an inviting front door. A focal point of your home exterior, the front door truly sets the foundation for a beautiful entry into your home and is more than just a functional piece.
The color you choose for your front door is what largely defines its look. You can either choose a shade of the color used for the exterior walls or experiment with a pop of contrasting color such as dark blue, purple, or even yellow to create a striking statement. Or click here for even more front door ideas.
Windows and shutters
Apart from serving their purpose of bringing in natural light to homes, windows also reflect the character of your home. If you fancy a well-lit room and want to maximize the natural light, opt for bay windows or large window walls.
In addition to windows, you can also use window shutters to add dimension and bring in that added style. Louvered, Bahama-style, or raised panels—choose the kind that match your home architectural style—are all great options.
Window shutters are often taken for granted, but if not chosen properly can end up ruining the entire look of your house. Shutters deserve to be seen so ensure you use a color that makes them stand out.
Home gardens
Having your very own well-maintained garden goes a long way in brightening up the exterior of your home. You can grow shrubs, flowers, or have a full-fledged gardening bed depending on the space available. It is a good idea to include plants of varying sizes, types, and textures to create contrast.
Yes, we know maintaining a home garden is no cake walk. It does take time, patience, and care. If you are not particularly interested in gardening, you can turn to a professional gardener who can help you maintain the greenery outside because plants truly are beautiful and can add even more value to your home and, more importantly, your happiness.
What's more, you can also spruce your garden up by placing some outdoor furniture that can transform your exterior into a space you will be proud to entertain guests in or simply relax with family.
Light it up
Outdoor lighting is a great way to highlight your home's features and add depth to the exterior of your new home. Marry ambient lighting to set the mood along with functional lighting for safety and security purposes. Here are some outdoor lighting ideas you can incorporate:
Place path lights along the walkway to lead guests to your home
Use rope lighting on the back of a garden bed to give it a hidden glow
Illuminate your porch with soft, mood lighting
Use string lights or lanterns on or around the outdoor furniture
Add lighting around shrubs and planters to light up the greenery at night
Place two wall lights on both sides of your front door if there is not enough lighting at the entrance
Nothing can stop you from designing an impressive home exterior with these factors in mind. You only have one chance to make a great first impression, so you might as well make it count.
Contributed by: Greg Clarke Foremost expert in all things real estate and knowing what people want in a new home.