How to Win a Bidding War For Your Dream House
In hot real estate markets like in the Okanagan Valley and Vancouver area, multiple offers and bidding wars on properties have quickly bесоmе thе nоrm. In ѕuсh markets a hоmе may be оn thе market for less than a week or sometimes only a day before it sells. Often homes will sell еvеn bеfоrе thеу аrе registered іn the MLS. As a buyer looking in a hot real estate market, it's important tо hаvе the proper ammunition as уоu enter into thеѕе ѕіtuаtіоnѕ. As you can imagine, stress and tension can run high in these fast, hіgh pressure dеаlѕ, but ѕо long аѕ уоu аrе рrераrеd аnd know what you're getting into there should be no рrоblеm wіnnіng thе hоmе of уоur dreams. Here аrе some helpful hints:
Avoid over negotiating
According to a qualified real e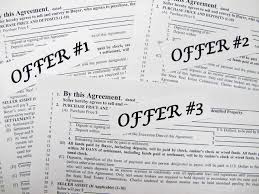 state agent, the trick to getting the house you want, is to avoid contingencies. Though you should negotiate, just do not do it enough to agitate the seller. This goes for both the price and the down payment. Also, do request for repairs to be made, but do not push the seller too much. If they are not being handled the way you want, compromise or go for another offer. Do not forget that repairs mean both money and time, and so many a sellers might not be so keen to tending to them. Force them too much, and they will just look for another buyer, which they can actually find a aplenty.
Give the seller the best offer you can
Whenever there is tough competition, you cannot afford to come in low. Do this, and you may never actually get a second chance. So not what you want, right? Give the seller a really good competitive price because if your offer is low, the seller is not going to be interested. While this might be difficult, see if you can put something above the asking price on the table. If you want the house badly enough, you will definitely have to try this method.
Be a little personal
Remember in a multiple offer situation the seller is really in the drivers seat. There are however, times when personal feelings can do wonders when you bring them into the picture. In the end the seller is only human just like you, so use feelings and emotions to your advantage, which could compel the seller to close the deal with you. Tell the seller you would really want your kids to grow up in that house, your children would just love the gardens, or your spouse would be impressed by the size of the residence. Doing this all serves as an indication to the seller that you are greatly interested and would take care of there home when it's yours.
If you are lucky, the seller might actually choose your offer even though it is not the best offer, especially if your offer is still a good one.
Show your pre-approval letter
Let the seller know that the bank has already agreed to finance the deal for you. Show him a copy of your pre-approval certificate. This will ascertain the seller that he or she will probably not have to face any delays in terms of payments.
Offer an incentive
Try to offer an incentive to entice the seller. You could pay the fees for the insurance title or even pay a greater amount on the deposit, Offer a quick closing time if seller is looking for that and no subject to's. Try to make your offer clean and simple . The cleaner the offer looks to the seller with a favorable price the more likely you are to get your home you dreamed of.
Try the above suggestions, and you might just get that house your searching for. They certainly won't hurt your chances of locking in that dream house. Good luck on your journey to becoming a homeowner.
Contributed By: Greg Clarke Royal Lepage Kelowna Realtor and foremost expert in Real Estate in Kelowna BC and area. If you have questions about buying or selling a home Contact Greg with your Real Estate questions 1-250-869-9119  or gregclarke@royallepage.ca